Hi there! Thank you for visiting wine-sense online. We hope to be as interactive, passionate, and knowledgeable on this website as we are in person.
Our approach is simple. We keep the seasons in mind and pair to the foods we're cooking with at each time of year. OK, so we might be over-thinking a bit. But that's why you love us!
If you've shopped in the store, you know our wines move fast and the selection changes often. So be sure to check back frequently for latest finds, our new obsessions, and recently allocated bottles. We'll also share upcoming events and sales so, you can grab them while they're in stock.  – Samanta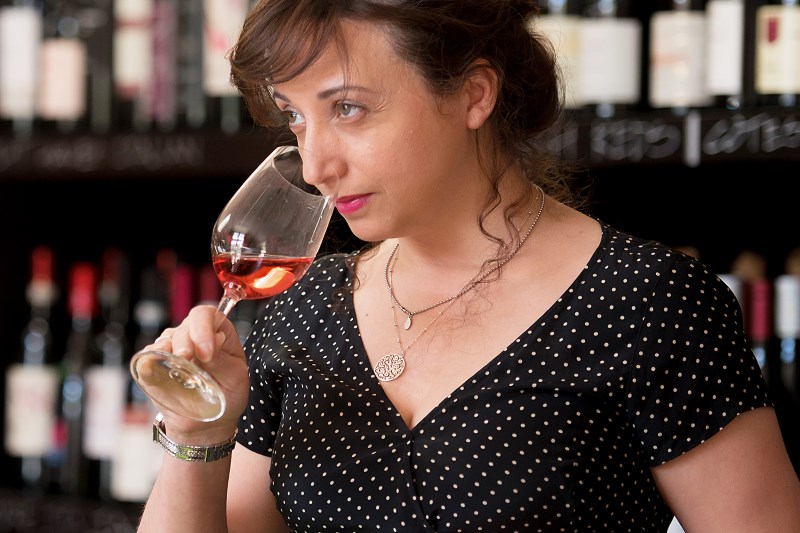 The Chronicles of Cigliegiolo
Leonardo Bussoletti 'Brecciaro' Ciliegiolo di Narni. "Leonardo Bussoletti spent years selling some of the great wines of the world, falling in love with Burgundy in the process. His eventual idea was to go back to his hometown of Narni in southern Umbria to produce his own local grape that would most resemble Pinot Noir. He had always believed that the local Ciliegiolo was often misunderstood, if not misused entirely, simply as a blending partner of Sangiovese or the base of some coastal rose wines. Understanding the history (wines of Ciliegiolo date back to the 1200s) and its potential to produce really gorgeous lighter reds, he dedicated himself to the research and revival of his local Ciliegiolo. He, along with a few friends and professors at the University of Milan, researched and studied particular clones of the grape, versions of Ciliegiolo that have thicker skins and could produce wines with greater structure and depth. Leo achieved just that, reigniting his local area to take pride in their local grape rather than get lost in the sea of Sangiovese production that surrounds Umbria." – James Mucci.
What to expect – This 100% Ciliegiolo comes from soil filled with breccia stone, and 30% of the wine will see time in larger French barrel. The wine leads with crunchy red berries, herbs, and an almost smoked cherry-cola like aroma. Lighter in body, but Leo achieves great balance in a grape not known for such!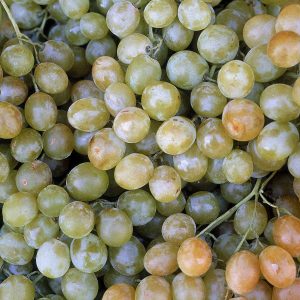 Leveling up food pairing with Chasselas/Gutedel
Located in the upper part of the Rhine, Baden is the third-largest wine producing region in Germany. Shielded by the Black Forest and the Oden Forest, its sunny climate lends more ripeness and natural sugar to the grapes. The 16000 hectares of vineyards are arranged in a L-shape and are composed of nine subregions, each of which expresses unique soil and climate differences.
OK, enough about geography! I want to talk to you about the grape that I have always been enamored with: Chasselas/Gutedel. Generally grown in Switzerland, France, Germany, and Portugal, this grape is rarely see here in the US. The moment I heard my friends were representing a producer who focuses on this varietal, I brought it to the shop right away. Especially once I learned about the producer himself, his farming methods, and the philosophy of his work. Thomas Harteneck has been practicing Biodynamic farming for over 25 years under the Demeter umbrella. He has curiosity and respect for how humans, animals, and the overall environment interact in a reciprocal partnership. What I most admire about his thinking is that this synergy doesn't stop with farming style but continues well beyond the vineyard walls.
What to expect: "Noble – harmonious – lively! Soft yellow color in the glass, the scent is characterized by pear and elderflower and is underlined by a light yeast aroma. Fruity on the palate, harmonious and mild in acidity. Very drinkable, leaves you wanting more."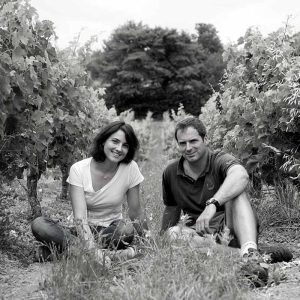 Château La Grolet – Côtes de Bourg 'Origines', Bordeaux. Positioned in the Côtes de Bourg on the Gironde's right bank, directly across from esteemed Margaux, Château La Grolet owns the distinction of being part of the mere 1.4% of Bordeaux producers to be certified biodynamic. The Hubert family, stewards of the land in the truest sense, are the owners and proprietors but also the vignerons, actually farming the land and making the wine themselves (also uncommon for landowners in the region). Catherine Hubert's grandfather was the first in the family to put down roots in wine country, purchasing the sister property in Blaye, Château Peybonhomme, in 1890. In 1997, Catherine and her husband Jean-Luc fell in love with La Grolet a few miles south, purchased the castle and vineyards, and set about carving out their place in the history of Côtes de Bourg.
What to expect: With a cépage of 70% Merlot, 15% Cabernet Sauvignon, 10% Cabernet Franc, and 5% Malbec, this is a lifted, fresh style of Bordeaux. La Grolet offers crunchy plums, nervy forest berries, and juicy pomegranate fruit tones. The structure is tight knit with the saline tang of terroir and length uncommon at this price.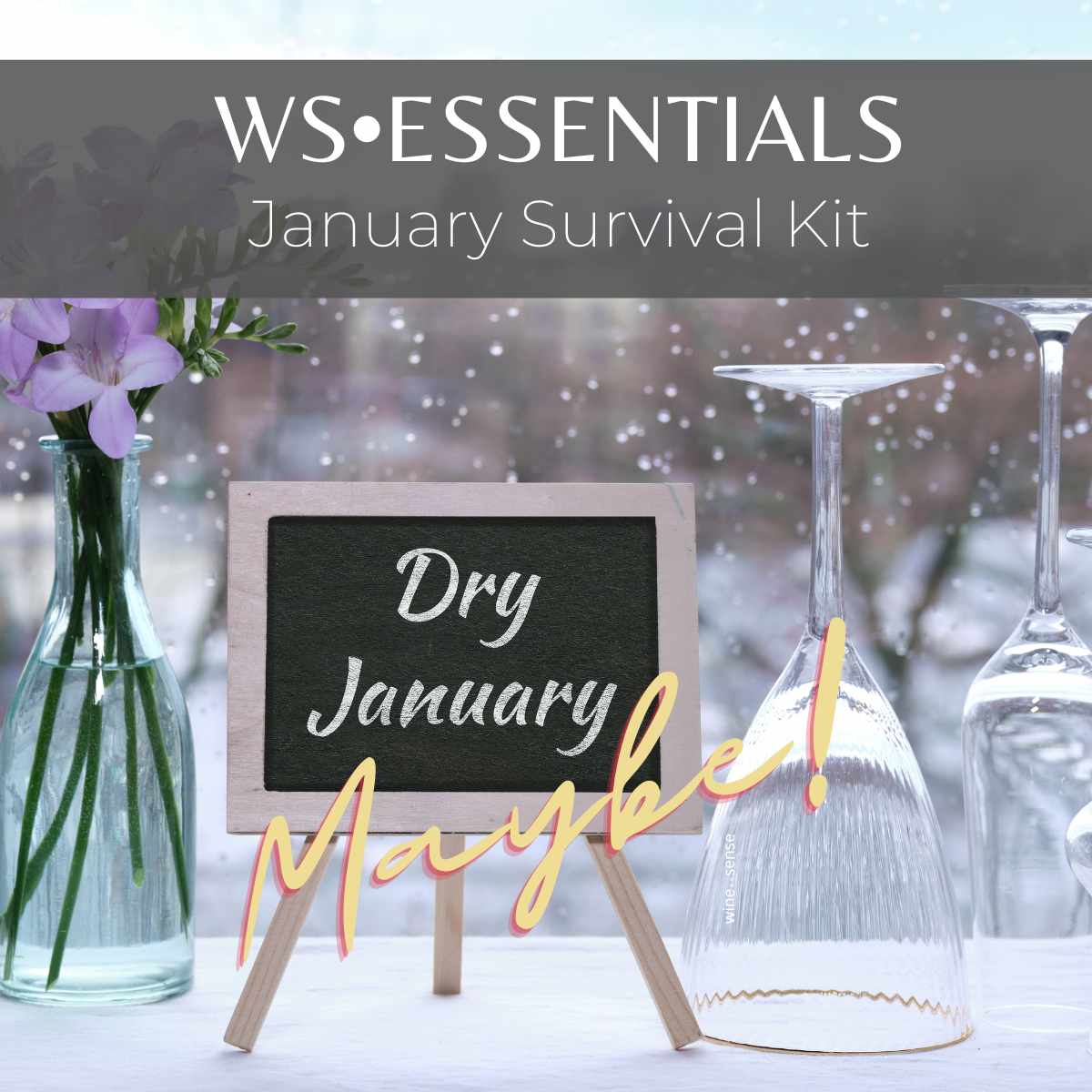 Here's a little care package for you this January, whether it's Dry or Not.
1. No & Low: Two bottles of our new non-alcoholic sparkling. Yes, it actually tastes like wine!
Nose: Fresh & delicate bouquet of pear & dried apricot. Palate: Medium body that's dry with a balanced acidity, effervescent, tart green apple, unripened pear, lime zest, & kiwi with flavorful and lasting finish.
2. Cluver Cider: Three bottles of 11.1586oz (tiny), Grany Smith Apples, Gluten Free. Apple cider: Delicate, light and a perfect pairing with Thai food.
3. Catina Gurrieri Olive Oil: One Bottle of Gurrieri Olive Oil (But of course)
4. 60 Page, lined, wine-sense mini journal: One wine-sense journal, to write notes about all the delicious wines you'll be discovering at wine-sense. AFTER January, of course. 😉